Moonifest Portfolio Inspires Sacred Trails and Colonization Protests
Round 6 Spring '12 Grant Recipients Announced!
Congratulations to the following recipients of Round 6 Moonifest Micro-Grants-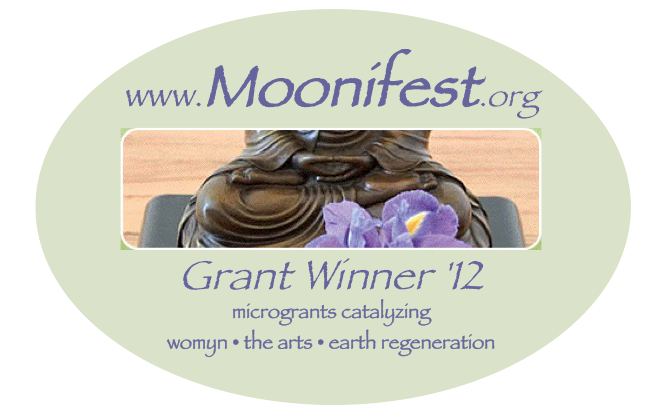 Three new recipients were announced in April '12, including:
Moonifest is funding the trail map development for the Sacred Door Trail, a 165-mile interfaith pilgrimage path in Montana, "dedicated to spiritual unity, peace and our connection to Earth and each other," with opening ceremonies this July.


Moonifest will support Ellen Mueller's protest art and her work offering Manifest Destiny III/Ladders in the Desert - designing and documenting performance art in Colorado "critiquing human expansion and infringement on America's natural resources"...Congratulations to Ellen!


*****
Moonifest Portfolio inspires women permaculture farmers, ancestral land writings, earth yoga, magic circles, and earthen cob art studios
Round 5 Autumn '11 Grant Recipients Announced!
Congratulations to the following recipients of Round 5 Moonifest Micro-Grants-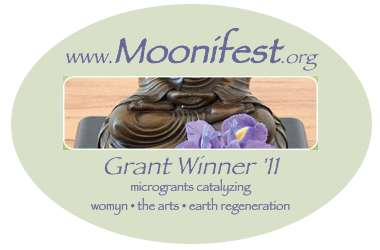 Five new recipients were announced in November '11, including:
Moonifest praises Megan Denton and her startup Able Farms to build chicken tractors and for organic farm startup capital. Congratulations to Megan and Able Farms!


Moonifest supports Jen Violi through grant funding for development of winter solstice contemplation and writing programming for women


Moonifest nurtures the work of Katrina Dreamer through grant funding for design and production of a book on ancestral journeys
*****
Moonifest Portfolio Inspires Ancestral Earth Walks and Moon Divas
Round 4 Spring '11 Grant Recipients Announced!
Congratulations to the following recipients of Round 4 Moonifest Micro-Grants-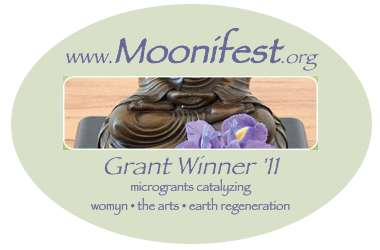 Two new recipients were announced in March, '11:
Moonifest will support J. Phoenix Smith's EcoSoul Wisdom and her work offering Fertile Ground: An Ecospiritual Journey with the Ancestors - a spiritual and earth honoring wellness project that promotes healing, reparation, peace, and stewardship, between individuals, their blood ancestors and the land in the Oakland/San Francisco Bay Area. This 4-week wellness series will provide a safe space and support for African Americans and other people of color to cultivate stronger connections with their human ancestors and elemental ancestors, to explore the lands where they live to foster restoration and stewardship. The project will include an intro to ancestor reverence, guided nature strolls that include earth honoring ceremonies and rituals of singing, drumming, and the spoken word as a form of creative restoration. Congratulations to Phoenix!


Moonifest supports Moon Divas through grant funding for professional scanning and graphic design to complete the Moon Divas Guidebook, the brainchild of Lara Vesta and friends, which will then be made available online. Lara eloquently states:

"Moonifest's investment in the Moon Diva's Guide will pay a return, will give back to women, to the arts and to the earth. The guide's purpose, at its core, is to mirror the connection between women, the arts, and earth regeneration. We are the earth, our bodies and our lives are not separate from the planet or from each other. When we come together and celebrate this astoundingly beautiful and simple birthright, consumer culture crumbles, boundaries dissolve, and all of life is possible in the spaces those entities leave. Our joy in our bodies, our cycles, our stories is contagious. It is a joy on the edge of an incredible grief, and there cannot be one without the other which is why we pray, we hold space, we weep in a great embrace and laugh together through our tears. I have seen it happen. It is happening.

"It is our reunion with the sacred commons, our cooperation and creativity that is shifting the dramatic paradigms of oppression and destruction. Revolution is as simple as meeting when the moon is full, eating what you've grown and gathering with your neighbors, your family, to tell the stories of the world. But this revolution cannot occur in isolated pockets, it must be sung in vast harmony. And you, all of you Moonifestas, I thank you so for singing."
*****
Moonifest Inspires Writing, Voices of Truth, and Sparkling Earth...
Grant Recipient Portfolio - Moonifestations of Earth Regeneration
Round 3 Autumn '10 Grant Recipients Announced!
Congratulations to the following recipients of Round 3 Moonifest Micro-Grants: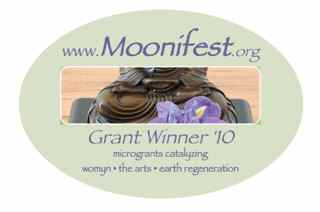 Four new recipients were announced on October 10, '10:
Moonifest will help startup Sarah Kinsel get wilderness first aid certification to support her work offering writing workshops for women in wilderness settings. Her planned offerings include "Songs of Sand and Spirit" women's writing retreats on the coast and Poetry of Place hikes.
Moonifest supports integrated design of place-based community creativity and ecology in the public parks through supporting Art Seed, the brainchild of Meg Denton in the St. John's, Portland neighborhood.
Moonifest praises Melissa Penley and the Survivor Theatre Project - a creative experience for healing and outreach for survivors of sexual violence in the greater Boston area - on their fall tour. The project began as an extended theatre workshop and the ensemble performed in 2008 and 2009. The next evolution is for these survivor artists is to share their brave work with communities in Boston, Northampton, Amherst, and New York City.
Moonifest's third round of grants includes support for Marian Spadone's work with women using the arts to process their grief in A Fine Farewell, changing the way we face death.
*****
Moonifest Inspires Artists and Earth Regeneration...
Round 2 Early Spring '10 Grant Recipients Awarded!
Congratulations to the following recipients of Round 2 Moonifest Micro-Grants: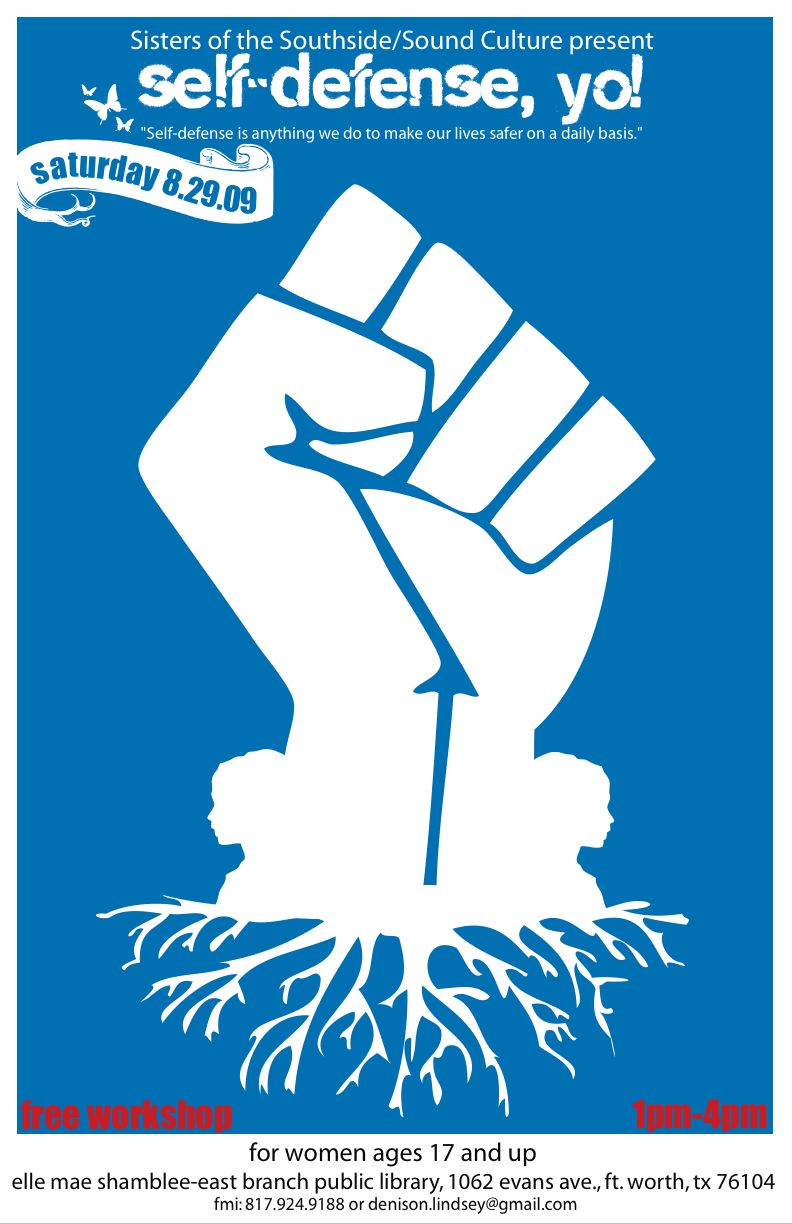 Yo! has been awarded grant units to provide nonviolent women's self-defense workshops in Texas. "An ongoing series of 3-hour workshops titled "Self Defense Without Violence, Yo!" About previous workshops: In a safe public setting (public library meeting room), the participants gathered with us to heal and share, speak and learn. We led interactive exercises, including an opening ritual, practice in using our voices strategically, and performance (spoken word poetry and song). We discussed the use of women's image/body in media advertising and the impacts of this on societal expectations - of the ways in which ads distort our perception of women and girls. Some of the participants and even the team presenters openly wept, revealed long-held sorrows, questions, and hopes. All were treated with respect and unconditional positive regard. We are cultivating strong women in our community, women who can learn ways to minimize the impacts of sexism and violence in our lives and thereby become empowered to help others and to become leaders in the growing of a less hurtful culture. We are nurturing the sustainable woman with workshops that include ritual elements of circle-building, sharing of intentions, and a pro-woman altar of talismans, power symbols, and flowers. We offer a communal learning event that provides a sense of comfort and serenity, evoking nurturance, alliance-building, and cooperation."
*****

Myshkin is a performing artist who used a Moonifest grant to help complete her cob home/music studio on a permaculture art farm, The Gypsy Cafe, in Oregon. The space helps her record her music, featured as Myshkin's Ruby Warblers.
"So I left Portland and became a founding member of the permaculture art farm we call the Gypsy Cafe, took a few years off music, and focused on building both a community and a gorgeous little cob studio.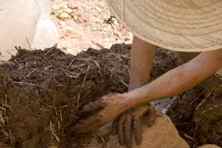 Cob is a mixture of clay, sand, straw and water, dug mostly from the site itself, stomped by feet into a durable, efficient and beautiful building material, and hand sculpted into walls, floors and furniture. I have loved the idea of cob building since I first heard of it, and had studied and felt ready to take on the project, but it would not have reached completion without the many helping hands and feet of land-mates, friends, and WWOF volunteers who put their love and energy into it.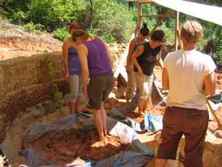 By early this year, I had most of the building done, and was working on getting the studio electrified and ready to make music in. I was also getting myself ready to get back to the work of music - writing, recording and touring. I asked for some help in these two areas and Moonifest came through brilliantly. September 2010 finds me recording new tunes and getting ready to take off for a 3 week UK tour, my first overseas tour in 3 years.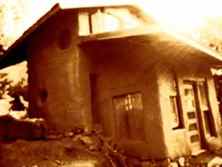 Thanks so much for your work, and taking it upon yourselves to create a micro-funding source for women who are on track and under the radar, ya'll rock!
Peace, mud, and strong dreams, Myshkin"
*****
Congratulations 2010 Round 2 Grant Recipients, You Inspire Us! Please come back to visit and receive updates about our amazing Moonifesters as their dreams unfurl!
*****
ElizaBeth Bando has this to share about her experience receiving a 2009 Moonifest grant: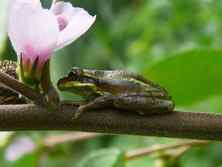 "Being an artist can feel like being an island. Many an idea ends up buried in the sand. People need to engage with one another to spark energy and make ideas a reality. People need to find the family that understands their ideas.
I was in the process of taking a little theatrical show that I had created and turning it into a one woman storytelling performance piece. Fortunately for me, I discovered Moonifest. The blessings from this connection are too numerous to mention, so I will focus on two. My little show may have ended up buried in the sand. Working with Moonifest, indeed allowed it to manifest. The second blessing is finding a spiritual home where artists understand that art can be an earth centered experience.
'Being Green and Other Mysteries' has had its first workshop and is well on its way to finding its final shape and form. This is a gift made possible by Moonifest."
Grant Recipient Portfolio - Moonifestations of Earth Regeneration
Round 1 Summer '09 Grant Recipients Announced!
Congratulations to the following recipients of Round 1 Moonifest Micro-Grants: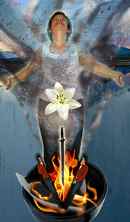 Melanie Weidner received 12 grant units for new digital photo and scanning equipment to support her artistic pilgrimmage journey this summer to the Southwestern US. She captured images along her journey and in the summer and fall '09 produce at least four spiritual collages of earth connection, and Moonifest will help promote an art opening of her work in Portland. Melanie will also weave these works into her Spiritual Direction and art coaching practice Listen for Joy, and her work with artists and women. Additionally, the artist will make available a round of art-collage workshops to women with limited access to creative outlets (low-income or imprisoned women) later in '09. "I intend for these collages and my summer experience to spark the community to then begin telling stories. My giftedness and my practice are to synthesize spiritual learning, artistic imagery, and communication skills to create art presentations and workshop events that invite others to engage with the wisdom I've gathered in order to evoke and empower their own. My summer pilgrimage art will create the perfect introduction and atmosphere for community spirituality events, and will model the transformative possibilities of both inner journey and integrative art-making." Thanks Melanie for your inspiring work!
*****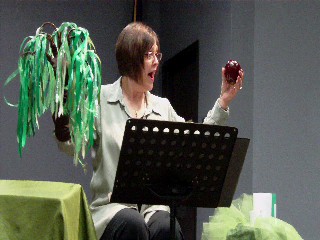 ElizaBeth Bando received 1 grant unit to support stage props and other PR for production in the summer '09 of her new play "Being Green and Other Mysteries." The play centers on the learning process of five cousins who come into relationship with a Magical Moonlit Tree. The play offers "practical tips on being green in day to day life, and the mysterious possibility that the earth can (and does) participate with us, communicate with us and illuminate truth and how to live well." ElizaBeth has also worked with a Seneca elder and shares her theater coaching with the development of Women's Circles. "In our Circles, our purpose was to come to know who we are through the earth, to live in truth and harmony with her, self and other. Eventually, my quest was woven into a philosophy that I call 'Earth, Art amp; Heart.'"
Comments from the audience:
From Glenda B.: "I want to see this show go into the school systems."
From Meredith GB:"I teach in the school system and I want you to bring it to my school. I can't wait to build a study guide around it."
From Jack M.:"I love the potential for kids and adults alike to take some of what they heard and put it to use in their own homes."
Various audience members renewed their vow to recycle, especially water bottles. They had no idea we use so many and so few end up in the recycling bin.
Thanks Beth for your amazing work!
We will provide portfolio updates as the artists' work unfolds!
Links to Kindred Spirits
Additionally, here are some links to magnificent moonifestations of earth regeneration underway now elsewhere in the local universe:
Feel welcome to ask questions of us at any time via email or otherwise contact us. When you are ready, you can apply.